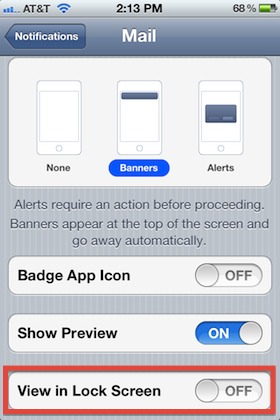 The notifications revamp of iOS 5 makes it easier than ever to see new messages and mail, but if you receive sensitive or private emails on your iPhone or iPad, you may not want them showing up on the lock screen.
Those little email previews are easy to hide, here's how:
Open "Settings" and then tap on "Notifications"
Tap on "Mail" and scroll to the bottom to "View in Lock Screen" and slide the adjuster to OFF
This will stop the email sender and subject info from being shown on the locked screen anytime a new email arrives. If you want to disable the notifications from appearing at the top of the screen as well, you'll need to select the "None" option in the three side-by-side options at the top of that same settings screen.
For those who had this disabled to begin with, you can obviously reverse this process to turn the lockscreen email previews on, but be aware that anyone who picks up the iOS device can then see the basic sender and subjects of the newest email messages, even without entering a pass code.

Via http://feedproxy.google.com/~r/osxdaily/~3/sOr8g3X4aPE/