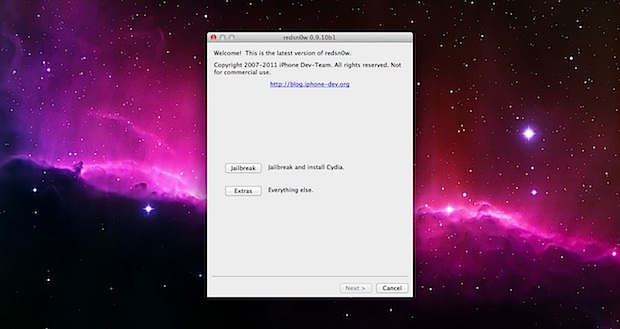 The untethered iOS 5.0.1 jailbreak has finally arrived, and it's extremely easy to use. We'll walk you through the process, but before proceeding make sure you meet the following requirements:
iPad 2 and iPhone 4S are not yet compatible due to their use of the A5 CPU, that is a currently a work in progress.
How to Jailbreak iOS 5.0.1 Untethered Using Redsn0w
This walkthrough is intended for those who are currently unjailbroken and using a stock iOS 5.0.1 installation. The instructions are the same for both Mac and Windows and for all iOS hardware:
Launch Redsn0w
Connect the iOS device to the computer and then turn it off
Launch Redsn0w and click on "Jailbreak"
Put your iPhone, iPad, or iPod touch into DFU mode: Hold the power button for 3 seconds, continue holding Power button and additionally hold the Home button for 10 seconds, release the Power button but continue to hold the Home button for another 15 seconds
Let redsn0w do it's thing, make sure "Install Cydia" is checked, and let the jailbreak install
The iPhone, iPad, iPod touch will reboot and be jailbroken, find and launch Cydia to verify the jailbreak worked. The untethered solution is obviously much easier than the tethered options, there is no redsn0w boot assistance needed after the device turns on and off, and the installation is simplified as well. Enjoy the jailbreak.
Note for Windows users: be sure to run Redsn0w in Administrator mode, this can be done with a right-click.
Already jailbroken? Here is how to convert a tethered iOS 5.0.1 jailbreak into untethered with Corona, it's very easy and doesn't require redsn0w.

Via http://feedproxy.google.com/~r/osxdaily/~3/KK_pCyZfnMA/