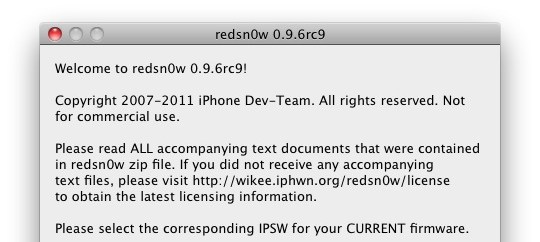 Redsn0w 0.9.6rc9 has been released for download, this is the first version of Redsn0w that will perform an untethered jailbreak with iOS 4.3.1. Redsn0w 0.9.6rc9 is compatible with iOS 4.3.1 on iPhone 3GS, iPhone 4 GSM, iPod Touch 4G, iPod touch 3G, iPad, and Apple TV 2, but the iPad 2 is currently not supported.
Download RedSn0w 0.9.6rc9
The latest version of Redsn0w is available for Windows and Mac OS X:
We will update mirrors as they become available.
If you need to create custom iOS 4.3.1 IPSW, you can use PwnageTool 4.3 instead.

Via http://feedproxy.google.com/~r/osxdaily/~3/FlQ3thRbzWo/